THE FAERY'S KISS - The Stageplay
The Fairy's Kiss - The Stageplay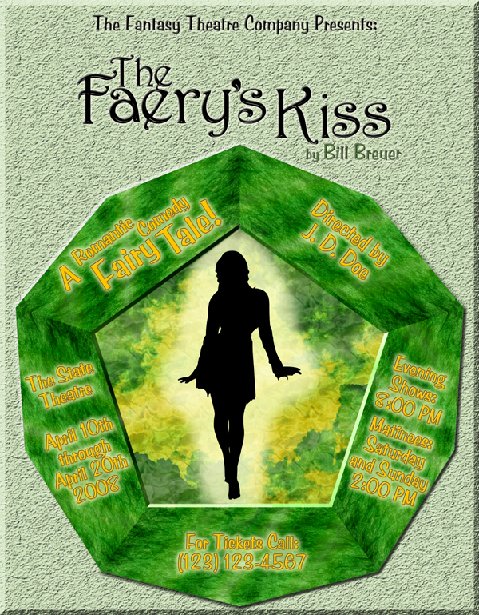 © by Bill Breuer - A Full Length Stage Play
A Fairytale Romantic Comedy for Adults and Children (age 10 and up)!
Cast: 5 Females, 3 Males
A few extras - (briefly in one scene - can even be stage crew!)
Ready for stage: includes complete Light Plot, SFX explanations, resources. Sound SFX CD available. The show has been developed to be performed on virtually ANY type of stage: Thrust, Theatre-in-the-Round , Outdoor, Dinner Theatre, etc.
A very economical show to produce for any company!
.
A screenplay version is currently under development!
NEW FLASH! There has been a torrent of The Wee Folk in the media!

That's right - a deluge! There are literally hundreds of products been released and on the store shelves! There are major movies, books, and other big media releases about Faeries. Your theatre too can get in on this trend! The Faery's Kiss is an adult fairytale romantic comedy that an be enjoyed by the whole family!

This show was written with the idea of having the 'Box Office Appeal' of so many of the shows and movies from the 1950s and 60s that still pervail today! With decades of theatrical experience as an actor, director and having worked in most every area of production, this show was written with the entire team in mind as well as fulfilling the needs of the audience and the art.

ROYALTY INFORMATION: Email author for information.
A Fairytale Romantic Comedy ! (Links below)
Official website of the show, 'The Faery's Kiss'!
Playwright's Official Website
A List of Plays by the Author!
.
Email the author or representative.